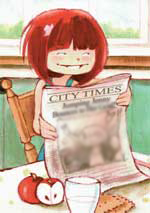 Jenny was born to jump – her every ounce was made to bounce. But when jumping gets her into trouble, she decides to hang up her pogo stick and stop completely. Pretty soon, Jumping Jenny became Slumping Jenny. Then, when her school plans a charity (mitzvah) project, Jenny discovers that her unique skill can be used for a very special purpose. See what can happen when a determined little girl follows her passion to make a difference in the world.
About the Author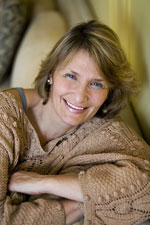 Ellen Bari is the author and creator of numerous books, multimedia and exhibits for viewers young and old, for media new and old.  Bari's career has included seminal projects for luminary companies at every end of the spectrum, from Nickelodeon and Sesame Workshop to the United States Holocaust Memorial Museum and American Express. But, to some of her childhood friends, her claim to fame is still her audacious 1,000 jumps on a shiny metal pogo stick many years ago!
About the Illustrator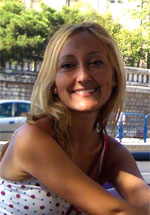 Raquel Garcia Macia was born in Spain and majored in Fine Arts at Spain's San Carlos University, in Valencia. She completed a Master Degree in Illustration at the Istituto Europeo di design in Rome, Italy. Raquel has twice been awarded the winning prize at the International Contest of Illustration in Bolonia, Italy. She has illustrated children's picture books for Belgian, Italian, American and Spanish publishing houses.
Early Editorial Reviews
This is a story about Tikkun Olam, the act of trying to make the world a better place. Though the illustrations convey the fact that Jenny attends a Hebrew day school, she lives in a diverse community, and children of all backgrounds will relate to her predicament and benefit from the universal lessons imparted. "Your every ounce was made to bounce!" says Jenny's grandma when she notices how forlorn the little girl has become, trying to squelch her perpetual jumping. It's true that her constant motion has been interfering with life at school and at home, but suppressing her nature is not a good solution. Fortunately, Jenny's teacher believes in community service and organizes a fundraising project to assist a needy school in Uganda. Jenny commits to a jumpathon, collecting pledge money for each jump. She simultaneously reaches her goal of 1000 jumps and helps fund computers and books….with its bright, child-friendly cartoonlike illustrations, the book succeeds in reminding children to recognize their own gifts and to remember to give to others.
School Library Journal
Gloria Koster, West School, New Canaan, CT
A little girl channels her exuberance and excessive pogo-stick jumping into a worthy fundraising venture.
…Bari's story of one girl's approach to the Jewish principle of "tikkun olam" (literally, "repair the world") will resonate as readers watch Jenny achieve her exhausting, triumphant success. (author's note) (Picture book. 5-8)
Kirkus Reviews
This is a heartwarming story about Jumping Jenny who uses her "skills" to help out a good cause. Everyone has special skills, even if they aren't appreciated by everyone as Jenny soon found out. Her passion for jumping did eventually enable her "to make a difference in the world." The purpose of this book is to encourage children to do just that and Jenny's attempt to raise money involved challenging herself to jump 1,000 times on her pogo stick. In the author's note she briefly encourages children to participate in Tikkum Olam, which means "world repair," to make a difference by helping those around us.
-Deb Fowler
Feathered Quill Book Reviews
Faced with the task of reviewing five new kids books, I sat down with a children's literature expert: my 5-year-old daughter, Maya. …The last book was "Jumping Jenny" by Ellen Bari and illustrated by Raquel Garcia Macia, which is meant to encourage every reader to make a difference in the world.
Maya said, "It's my favorite. I'm going to read it again at nighttime."
When a book graduates from the overflowing shelves downstairs to the select few in her bedroom then you know it's special.
-Steven Friedman
Jweekly.com Covering the SFJewish Bay Area
Jumping Jenny is a delightful story that reminds us that everyone has something to offer, and if you are so lucky to find your passion, follow it. Let it take you places! The writing and illustrations will capture your heart. This book is a keeper!
-Rita London, Director of Public Programs, Children's Museum of Manhattan
I liked how Jenny took her passion that got her into trouble and transformed it into something that helped others. There is a nice arc in the story. Today, schools around the world are collaborating on projects via the Internet at every educational level and Uganda is active in these activities.
– Bill Yotive, Project Manager, Global Teaching and Learning Project, Education Outreach, UN Headquarters
The story thoughtfully illustrates that by looking at what we do from a different perspective, we can often see things we hadn't seen before. Jumping Jenny beautifully exposes children to a larger world view and shows them how each individual can make a difference. I thoroughly enjoyed the book.
-Lisa Medoff, Children's  Media Specialist and former Research Director, Children's Television Workshop
Reader Reviews