Please send media inquiries to Jessica Horwitz, jhorwitz [at] karben [dot] com or contact the author directly.
Ellen Bari – Bio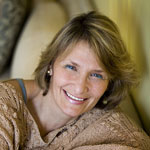 Download full image
Ellen Bari is the author and creator of award-winning multimedia, exhibits and programs for children and adults for clients including Sesame Workshop, PBS, Nickelodeon, US Holocaust Memorial Museum (USHMM), Harper-Collins and American Express. Ellen has published numerous leveled readers, non-fiction books and other creative curriculum materials for a host of educational publishers including Scott Foresman, Houghton Mifflin, Behrman House Inc. She is the co-founder of Momasphere, an organization that creates innovative programs and events for moms of all ages at all stages, in and out of the workplace. Ellen's "creative compass" navigates her life as a writer, educator, producer, globe trekker, event planner, and designer of one-of-a-kind ceramics and jewelry.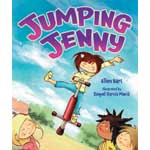 Download full image
Jenny was born to jump – her every ounce was made to bounce. But when jumping gets her into trouble, she decides to hang up her pogo stick and stop completely. Pretty soon, Jumping Jenny became Slumping Jenny. Then, when her school plans a charity (mitzvah) project, Jenny discovers that her unique skill can be used for a very special purpose. See what can happen when a determined little girl follows her passion to make a difference in the world.
Early Editorial Reviews
A little girl channels her exuberance and excessive pogo-stick jumping into a worthy fundraising venture.
…Bari's story of one girl's approach to the Jewish principle of "tikkun olam" (literally, "repair the world") will resonate as readers watch Jenny achieve her exhausting, triumphant success. (author's note) (Picture book. 5-8)
Kirkus Reviews
This is a heartwarming story about Jumping Jenny who uses her "skills" to help out a good cause. Everyone has special skills, even if they aren't appreciated by everyone as Jenny soon found out. Her passion for jumping did eventually enable her "to make a difference in the world." The purpose of this book is to encourage children to do just that and Jenny's attempt to raise money involved challenging herself to jump 1,000 times on her pogo stick. In the author's note she briefly encourages children to participate in Tikkum Olam, which means "world repair," to make a difference by helping those around us.
-Deb Fowler
Feathered Quill Book Reviews
Jumping Jenny is a delightful story that reminds us that everyone has something to offer, and if you are so lucky to find your passion, follow it. Let it take you places! The writing and illustrations will capture your heart. This book is a keeper!
-Rita London, Director of Public Programs, Children's Museum of Manhattan
I liked how Jenny took her passion that got her into trouble and transformed it into something that helped others. There is a nice arc in the story. Today, schools around the world are collaborating on projects via the Internet at every educational level and Uganda is active in these activities.
– Bill Yotive, Project Manager, Global Teaching and Learning Project, Education Outreach, UN Headquarters