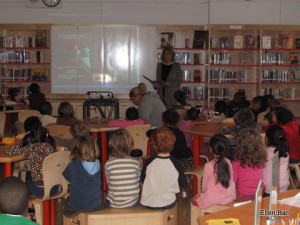 Drawing upon my background as a children's media specialist and educator, my author visit programs are cross-curricular, highly engaging, and easily customized to meet the needs of your school/community. In the past I've created interactive programming for Sesame Workshop, PBS, and the Learning Center for the Holocaust Memorial Museum in Washington, so customizing the right program for your school is somewhat second nature to me. The planning starts long before I walk through the doors as my goal is to partner with you so that my visit meets your needs.
Jumping Jenny's passion and compassion come together in a most unlikely place – on her pogo stick! See how one determined little girl challenges herself to use her unique skill to help others while also sharing the joy of movement!
PROGRAMS
All of the programs include a reading, Q&A and, of course, some jumping!
Theme:  WRITING
Who would ever think an author rewrites a book 32 times!
Grade Level & Audience Size K-5, 10-100+ students
Program Description:
This interactive Powerpoint presentation explores the writing process and integrates what children learn in the classroom about writing, revision, and publishing, with my own real world experience. I include the reality of 32 revisions, and hearing NO to my manuscript, many times, before someone said YES.
Hands-On Activity
'Write what you know' is a common battle-cry for writers. Children will be encouraged to explore writing from their own experience as they create their own story with drawings and words based on something that happened to them in their life. Additional creative free writing exercises will vary depending on the size and age of the group.

Theme: COMMUNITY SERVICE
Jumping Jenny made a difference with something she loved to do, and so can YOU!
Grade Level & Audience: PreK-3, up to 50 students per session, with adequate adult supervision
Program Description
This program emphasizes the importance of community service and how everyone can help make a difference! Through a lively discussion and brainstorming, children will share what causes they care about and may even discover that, like Jenny, they too can help to benefit others through their own passions.
Hands-On-Activity: Children will each create a unique take-home Make a Difference Newspaper featuring Jumping Jenny and themselves. Using this guided template children will draw and/or write about something they love to do, and causes they care about.
Additional Program: Jumping Jenny can serve as a springboard to kick off a host of community service projects, by class, grade, school or community. I will consult with your school to develop the most appropriate activities for your community service projects.
Theme: HEALTH
Jumping is not just fun, but it's great for your health too!
Level & Audience Size: PreK-2, smaller groups depending on number of staff
Program Description
Exploring the many different ways we jump, from jumping jacks, to hopping to leap frog, this program inspires creative movement using jumping combined with counting and rhythm. Children learn a jumping chant around the theme of making a difference, which can be done with or without jump ropes.
Hands-On Activity
Children will create a Jumping Jenny Jumping Jack Journal to track their physical activity at home (or in school) of 1,000 jumping jacks or other physical activity over a prescribed period of time. Children need 60 minutes of activity per day to grow healthy and strong.
Theme: ART
Recycle paper by making beautiful beads like the women in Uganda!
Grade Level & Audience Size: grades 2-adult
Program Description: This wonderful activity mirrors a process used by the women in Uganda (Jenny jumps for a school in Uganda) who make beautiful paper beads and sell them to support their families. It combines recycling, with art, fun and an opportunity to discuss another culture's practices as well as global poverty.
Hands-On Activity: Use recycled magazine paper and glue to create beautiful multicolored beads. As a jewelry designer, I bring an added level of skill, and can help design projects for gift giving, fundraising activities or other community service projects.
Kids jump for joy with your own Jumping Jenny puppet!
Grade Level & Audience Size: grades preK-2, up to 60 children, with adequate adult supervision
Program Description: Children personalize the experience and create their own version of a Jumping Jenny puppet that they can jump with.
Hands-On Activity: Children decorate and cut out a Jumping Jenny coloring page, that they affix to an art stick to create a Jumping Jenny puppet.